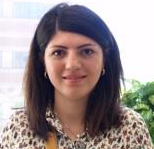 Nasim Danaei is a lab assistant in the laboratory of Dr. Michael Overduin in the Department of Biochemistry at the University of Alberta.
In collaboration with scientists at NANUC and the University of Alberta, the Structural Genomics Consortium at Oxford University and the University of Birmingham, she is involved in identifying potential molecules that specifically attach and hinder the kinase with little to no off-target effects.
She received an MSc degree in public health from the University of Tabriz, Iran. Then, she became a member of the research center of Tehran university to gain experience in research. She attended several workshops, courses and participated in several research projects.